Oakwood Smallgoods Co.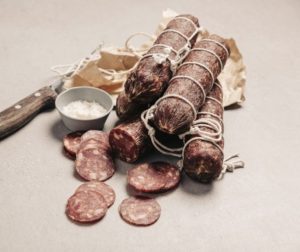 Oakwood is bringing the craft back to smallgoods. Traditional time honoured techniques and carefully sourced ingredients come together to create high quality artisan smallgoods.
Oakwood prepares a wide range of artisan smallgoods at The Mill Castlemaine. They have built a traditional wood fired smoker and temperature controlled aging rooms to help them produce high quality traditional smallgoods. Prosciutto, smoked ham, smoked bacon, frankfurts, sausages and dry cured meats are just some of the items on offer.
Oakwood Smallgoods is passionate about training and passing on skills to businesses and individuals. They run classes in Castlemaine and a range of venues across Victoria. If you want to take part in a class, or have a class organised for a team of people, they would love to hear from you.   

OPEN Thursday to Monday – 8.30am-5pm

9 Walker St. Castlemaine, 3450, Victoria.
Find out more by emailing
sales@oakwoodsmallgoods.com