Loom Gallery at The Mill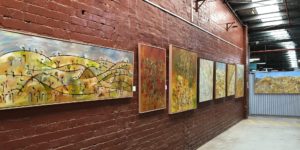 Loom Gallery is located in the foyer area of the Castlemaine Vintage Bazaar and Platform No.5 at the The Mill.
The gallery is intended for the exhibition and sale of contemporary art by emerging and established artists and community groups. The gallery is administered and curated by Jane Goodrich and Michael Wolfe on behalf of The Mill Castlemaine and aims to provide a supportive environment where artists working in a range of media can showcase their works in a repurposed industrial space that attracts approximately 15,000 visitors per month.
Find out more about exhibiting in Loom Gallery here.
Email: loom@millcastlemaine.com.au